'
L'Oreal Becomix Suite
L'Oreal
Franklin, NJ
1,500 Sq. Ft.
Retrofit
COMPLETED: 2007

To support additional cosmetic production capacity, L'Oreal converted 1,500 s.f. of existing cosmetic packaging to new cosmetic manufacturing space. Similar to the XP Module, the new Becomix Suite is an independent manufacturing line designed to handle hazardous quantities of raw materials. The new Becomix Suite was designed to include utilities and structure to support the new European manufacturing skid. The new processes required to support the new skid and all of its accessories included a chilled water system, dust collection and new European power supplies.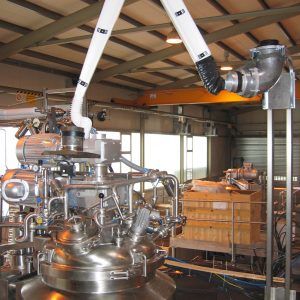 Upon completion of the design, Farrell Partnership was retained to complete construction administration to ensure the design was followed. This project was very technical in execution and required a strict schedule be adhered to throughout the design and construction processes. Due to the tight schedule, Farrell Partnership's role was critical to confirm the construction documents were followed. There was no time for any construction mistakes or set-backs.
The Becomix Suite required the utilities and support systems to be installed and fully operational before the production skid arrived. Once the skid arrived to the site and was put in place, the systems were then connected and the process started up. Commissioning of the new Becomix Suite took about 2 weeks to complete, allowing the project to be completed ahead of the aggressive completion deadline. Working closely with the equipment vendor, the L'Oreal management team, and Farrell Partnership's design team, we were able to achieve all of the overall project goals and have the new equipment up and running, meeting the proposed start-of-production date.