'
L'Oreal XP Module
L'Oreal
Somerset, NJ
10,500 Sq. Ft.
Retrofit
COMPLETED: 2015

Due to unexpected growth, L'Oreal requested Farrell Partnership to complete a design and code analysis for a new cosmetic manufacturing suite. The XP Module is a High Hazard (Combustible) production space. Originally a finished product warehouse, the 10,500 sq. ft. took significant architectural and engineering planning and design to convert into the manufacturing facility L'Oreal required. Through extensive design and coordination with MEP engineers, a safe, code compliant manufacturing hall was created.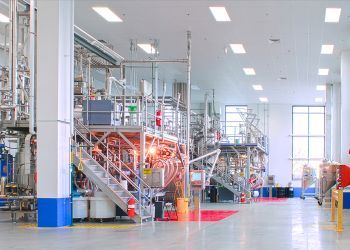 In addition to being able to handle the production of cosmetics using highly volatile liquids, the XP Module was intended to be a showcase for new equipment and manufacturing practices. Through the use of natural daylighting, Farrell Partnership created a well lit manufacturing suite that, with the use of aesthetically pleasing materials and finishes created a clean, durable, impressive manufacturing facility that would be envied by any client or competitor.
This project, although nearly 10 years later is perfectly in sync with the UP-2 Building Expansion that was also a huge success.